About Cathi & the OxyLift Program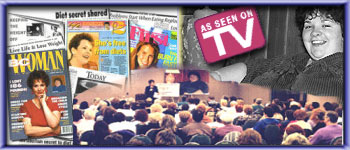 Cathi is a best-selling author and has been a popular guest on 100's of tv and radio shows.  She successfully appeared on The Shopping Channel for 7 years promoting her effective weight loss program.  Cathi's amazing story and anti-aging products have been featured in many magazines.
Cathi developed a unique weight loss program after winning a lifelong battle with obesity. Cathi devoted 2 years to research on stopping emotional eating and balancing levels of Serotonin and Dopamine, which is key to feeling optimistic and unstuck. She also worked at a behaviour modification program where she received techniques that would Boost Happiness and Crush Cravings.
Cathi keeps on-top of all of the latest research in natural health and beauty in order to give her clients the very best in looking and feeling healthy and beautiful!
Keynote speaker and consultant for Canadian Armed Forces, World Dental Congress and major corporations

Member – international Who's Who of Entrepreneurs

Sold-out shows on TSC & TVSN Australia

Successful US and UK infomercials